---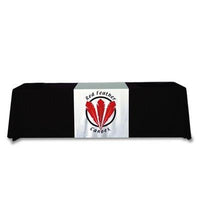 Sale
Dye Sublimation Custom Table Runner:

Our dye sublimation graphic table throw covers enhances graphic options for throw covers and is our preferred table throw option.

The dye sublimation process involves using specific sublimation inks that once heat activated at 400 degrees, will "flash" into a gaseous state penetrating and dyeing the fabric.

The sublimation process is permanent because the image actually becomes part of the material.

Dye sublimation trade show table runner can be washed and ironed.

Please call for critical color matches
Product Information
Dye Sublimation Table Runner
All fabrics are flame retardant and meet FR Code 701. This attribute is required by most local Fire Marshals around the country. A flame retardant certificate will be shipped with your order so you won't have any problems at the trade show or other public space.
A note on "swatch cards": Please realize that the our samples are limited in their ability to accurately depict colors. Every computer display is calibrated differently and therefore colors can vary from computer to computer. These swatches should however give you a relative idea of our color selection. PMS numbers are given to aid you in determining the best match. Please realize that these numbers are somewhat subjective and not intended to be exact matches. If you need a more accurate color depiction, call us and we'll send you an actual swatch sample. Even with actual swatch samples, please keep in mind that dye lots can vary.
Fabric Care Instructions

For all fabrics: Machine wash in cool water (120°F / 48°C) with a mild detergent and no chlorine bleach. Tumble dry at lowest heat setting. Remove immediately from dryer to prevent wrinkling. Avoid extreme heat to preserve quality of permanent press fabrics. No ironing necessary if care instructions are followed.
Imprinted fabric items: Do not dry clean. Do not iron or press. Use our Micro Steamer.
Let's Display & Graphics will not assume responsibility for fabrics damaged due to improper laundering or storage.